PPR/PE-RT High Speed Pipe Production Line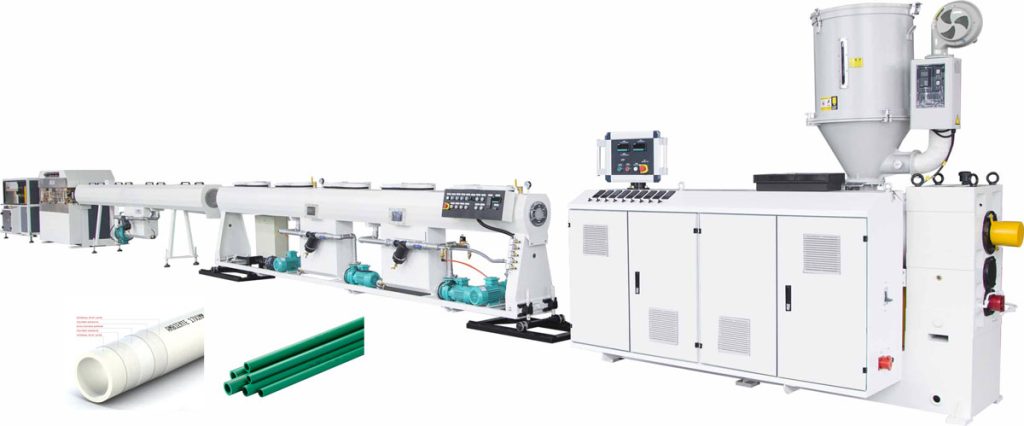 The PE-RT pipe, also known as an underfloor heating pipe, is commonly used for heating systems and hot water systems. The 5 layers PE-RT pipe which provide exceptional resistance to UV-light and prevent oxygen from permeating into the pipe system. This helps to inhibit the growth of microbes within the pipes and protects against corrosion and rust in the heating system. As a result, the lifespan of the pipe system is extended. PPR pipe is a type of pipe made from PPR, it is also called random copolymerized polypropylene pipe, used for plastic pipework. It is produced through a continuous extrusion process in PPR Pipe extruders. Most manufacturers offer PPR Pipes in white color, and their size range commonly falls between 16-110 mm.
Hot and cold water plumbing distribution, residential and commercial
Radiant heating and cooling systems (floors, walls, ceilings)
Hydronic piping and distribution (radiators, fan coils, etc.)
Chilled water piping
Outdoor snow and ice melting
Turf conditioning/pitch heating
District Heating/Cooling
Water Service Lines (CTS and IPS)
Geothermal ground loops (vertical boreholes, horizontal layouts)
Hot and Cold Water Supply Systems:
PPR pipes are widely and equally used for hot and cold water supply systems in residential, commercial, and industrial buildings. They can withstand high temperatures and pressure and can distribute heat evenly which makes them ideal for transporting water in such systems. They are also used in heating systems such as under-floor heating etc.
Chemical and Fluid Transport:
As we know that PPR pipes are resistant to corrosion which makes them most suitable for transporting chemicals and fluids in industrial processes.
Agricultural Irrigation Application:
PPR pipes are extensively used for irrigation systems in the agriculture sector due to their durability and resistance to chemicals.
Infrastructure:
PPR pipes are also used in infrastructure projects like sewage systems, drainage systems, and cable conduits. These pipes' resistance to corrosion and abrasion makes them ideal for such applications.
Transporting Fluids and Chemicals:
PPR pipes are used in transporting fluids and chemicals in industrial processes.Summarily, it can be concluded that these pipes are a versatile and durable option for a wide range of piping applications.
This production line is mainly used for producing PP-R pipes, and also for PE-RT, PB and PE-X resions.
PLC control, touch screen interface with high level automatic operation.
The specialized screw design has good plasticizing effect. The diameter is 20-200 mm, and the length to diameter ratio can be customized as demand.
Adopting composite spiral head, diffectively eliminating material characteristic memory. Dual mixing head ensures 100% plasticization of molten material before mold head, with capacity increasing of about 30% compare to ordinary models.
Vacuum calibration, constant temperature calibration, eliminating stress to the inner wall of the pipe.
Adopting co-extrusion machine head for color strip.
Large extrusion volume, low and uniform melt temperature.
The transmission adopts hard toothed gears, which has advantage of low noise, smooth operation, large load, long service life, etc.
Production Line Flow Chart
Raw material + Color Master-batch → mixing → Vacuum Auto Loader→ Hopper Dryer → Single Screw Extruder → Color/Marking Line Extruder → Extrusion Mould → Vacuum Calibration Tank → Spray Cooling Tank → Printer → Cutter → Stacker/pipe winder
| | | | | |
| --- | --- | --- | --- | --- |
| Model | Pipe Range (mm) | Extruder Model | Main Motor Power (KW) | Max Extrusion Output (kg/h) |
| BQX-PPR63 | 20~63 | SJ65/33 | 125 | 150 |
| BQX-PPR110 | 20~110 | SJ75/33 | 210 | 220 |
| BQX-PPR160 | 50~160 | SJ75/33 | 210 | 220 |
PPR Pipe Main Technical parameters
Cold Water PPR Pipe
PN1.25 (Mpa)
Cold Water PPR Pipe
PN1.6 (Mpa)
Hot Water PPR Pipe
PN2.0 (Mpa)
Hot Water PPR Pipe
PN2.5 (Mpa)
Φ25×2.3
Φ20×2.3
Φ20×2.8
Φ20×3.4
Φ32×3.0
Φ25×2.8
Φ25×3.5
Φ25×4.2
Φ40×3.7
Φ32×3.6
Φ32×4.4
Φ32×5.4
Φ50×4.6
Φ40×4.5
Φ40×5.5
Φ40×6.7
Φ63×5.8
Φ50×5.6
Φ50×6.9
Φ50×8.3
Φ75×6.8
Φ63×7.1
Φ63×8.7
Φ63×10.5
Φ90×8.2
Φ75×8.4
Φ75×10.3
Φ75×12.5
Φ110×10
Φ90×10.1
Φ90×12.3
Φ90×15.5
 
Φ110×12.3
Φ110×15.1
Φ110×18.3